Verbatim Lightning Cable Champagne Gold 120CM
This product is no longer available
Product Number: 48850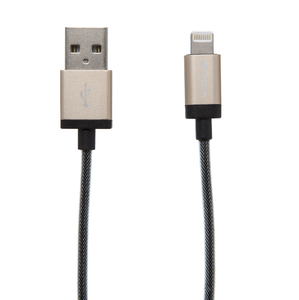 Product Information
MFI Certified using Apple's licensed technology
Will work with future idevices and iOS software
Durable, hard-wearing nylon braided cable
Cable is sheathed in braided nylon making it tough & flexible
PVC cable reliefs to protect the connection points
Premium aluminium connector covers match the latest Apple devices
Sync & charge: charging and data transfer functions
2 Year Limited Warranty
Product Specifications
Product weight: 21 grams
Product Size: 120cm
Pack Contents:
Lightning Sync and Charge cable
Product Summary
---
Verbatim Sync & Charge cables allow you to charge
your device and transfer data in one single cable.

Sync & Charge cables are MFi certified using Apple's
licensed technology to connect electronically to
Apple host devices.

The range includes 30cm and 120cm Lightning
Cables, and a 120cm microUSB cable, available in
range of colours to match the latest Apple devices.


Product Number: 48850