USB Flash Drive 2GB*
This product is no longer available
Product Number: 44091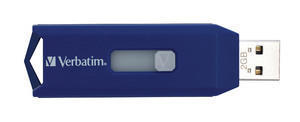 Product Specifications
Dimensions: 62mm x 21mm x 10mm
Minimum Read Speed: 10MB/sec
Minimum Write Speed: 4MB/sec
Interface: USB 2.0 (also compatible with USB 1.1 ports)
Power Source: USB Bus (no batteries required)
Pack Contents: USB Drive.
Temperature: Operating Temperature: 0°C to 70°C
Storage Temperature: -20°C to 70°C
Humidity: Relative hunidity during operation (non condensing): 20% to 90%
Altitude: Operating: 20,000 feet
Non-operating: 50,000 feet
Vibration: 15G peak to peak max
Shock resistance: 1000G (maximum)
Product Summary
---
The retractable design of the Store 'n Go family protects the USB connectors without the need for a cap. This means no more searching for lost caps in laptop bags and pockets!
Simply plug into any USB port and drag and drop your folders and files.
Password Protection Software Trial available for download -
www.verbatim-europe.com/usbsoftwaredownload
Verbatim 2 year limited warranty.
Capacity: 2GB
Minimum Read Speed: 10MB/sec
Minimum Write Speed: 4MB/sec
Product Number: 44091
*GB = 1 billion bytes. Capacity available for storage will be less; device uses up to 10% of memory for formatting and other functions. See
www.verbatim.com/flashcapacity
.