Ultra-Slim Power Pack - 1200 mAh
This product is no longer available
Product Number: 97929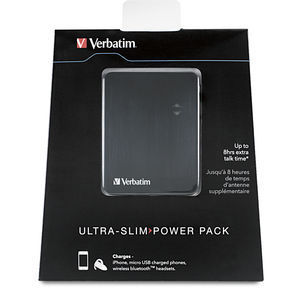 Product Information
Talk, listen to music and play games for longer,
Charge a wide range of devices including iPhone, iPod Touch/Nano/Shuffle , micro USB charged smartphones and wireless bluetooth headsets,
Ultra-slim portability makes it ideal for travelling,
LED indicators displays when fully charged and when the power pack needs charging,
Provides up to 8 hours* more talk time,
Verbatim 2 Year Limited Warranty.
Product Specifications
Battery: 1200mAh Lithium Polymer
Battery Capacity: 4.5Wh (1200mAh)
Input (USB): 5VDC, 1A Max
Output (USB): 5VDC, 1A Max
Product Dimensions: 80mm x 62mm x 10mm (L x W x H)
Product Weight: 54 grams
Battery Cycle Life: 500 times
Lithium Battery Energy Content (Watt Hours): 4.58
Weight of Lithium: 27 grams
Lithium Battery Voltage: 3.7 V
Number of Lithium Polymer Cells: 1
Pack Contents:
1200mAh Power Pack
USB to Micro USB Cable
User Guide
Product Summary
---
Power Pack - Keep on talking!
Now you can talk longer, listen to more music, play more games and watch more videos on your phone without worrying about running out of battery life – if you run low on power just plug in the Ultra-Slim Power Pack and keep going. A full charge can add up to 8 hours* of additional talk time, 23 hours* of music time or 6 hours* of additional video play.

Universal Power – Charge it all!
With a 1200mAh lithium polymer battery, the Ultra Slim Power Pack supports charging a wide range of devices such as iPhone, iPod, and micro-USB charged phones or wireless Bluetooth headsets.

Ultra-Slim Portability – Easy to carry!
Fits easily into any pocket or bag, the perfect size for taking with you when travelling. The lightweight and slim design makes it convenient to carry in case of the need for emergency power.

Cables Included – Connect fast!
USB cable to charge the internal battery is designed as part of the power pack making it easy and quick to connect to a laptop USB port or USB AC adapter for re-charging. Micro-USB cable included for charging devices.

*Based on iPhone 4s. Use time will vary with device being charged.




Product Number: 97929