Store 'n' Save 3.5'' Metal Enclosure Kit USB 3.0
Product Number: 53103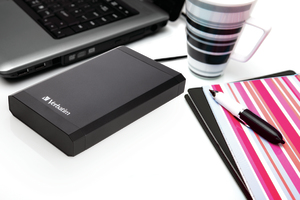 Product Information
3.5'' Hard Drive Enclosure,
High quality 'do it yourself' hard drive kit,
Fits any standard 3.5'' internal SATA hard drive,
Easy Installation, no advanced technical knowledge required,
USB 3.0 interface,
Rigid matt black metal design.
System Requirements
USB 3.0 Port
Windows 7, 8 & 10
Mac OS X 10.4 or higher
Product Specifications
Interface: USB 3.0 - connects to any PC or Mac with USB port,
Product Dimensions: 206mm x 124mm x 32mm (L x W x D)
Product Weight: 380 grams (approx.)
Pack Contents:
3.5" Enclosure Kit
USB 3.0 Cable
Quick Installation Guide.
Power Adapter
Product Summary
---
Turn your old internal Hard Drive into an external Hard Drive with one of Verbatim's Enclosure Kits.

Containing everything you need to convert a standard 3.5" internal SATA hard drive into your very own external hard drive.

Easy assembly: simply insert any SATA hard drive into the enclosure, no screws needed, no advanced technical knowledge needed.

Please Note: Hard Drive not included.


Product Number: 53103