Portable Hard Drive USB 2.0 Colour Edition Red 320GB*
This product is no longer available
Product Number: 47636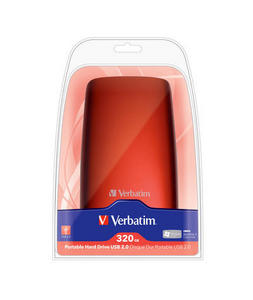 Product Information
Transfer documents and data easily between home and office
Safely back up and store all your files from your PC or laptop
USB plug 'n' play (no additional power required)
Stylish slim design fits neatly onto your desk top and allows it to be transported easily
'Nero BACKITUP 4 Essentials' back up software - create your own 'back up' from your PC/Laptop hard drive to your portable hard drive
Compatible with Windows Vista
Quick Start Guide printed in 27 languages
System Requirements
USB 2.0 / USB 1.1 port
Windows 2000/XP/Vista
Mac OS 9.x / 10.1 or higher
Compatible with Windows 7
Product Specifications
Power: Bus powered via USB 2.0 cable
Interface: USB 2.0 / USB 1.1 port
Data Transfer Rate: up to 480 Mbits/second
Rotational Speed: 5400rpm
Cache: 8MB or greater
Pack Contents:
Portable Hard Drive
USB 2.0 cable
Nero BACKITUP 4 Essentials back up software
Quick Start Guide printed in 27 languages
User Guide stored on the Hard Drive in 27 languages
Product Summary
---
The Verbatim USB 2.0 portable hard drive is the ideal storage solution for people on the move. Combining the large capacity in a light weight drive makes it perfect to carry with you.

Store and carry your digital and day to day working files on this truly mobile drive. Its stylish smooth design sits neatly on the modern desk top as the perfect accompaniment to your laptop.

The Verbatim portable hard drive is USB 2.0 bus powered (1 x USB 2.0 interface) and requires no external power for operation; simply plug 'n' play.

For added security Nero BACKITUP 4 Essentials software is provided to help back up your laptop or PC's hard drive. Features included synchronisation and full backup.


Compatible with Windows 7
Verbatim 2 Year Limited Warranty
Capacity: 320GB
Interface: USB 2.0
Dimensions: 135mm x 85mm x 21mm
Product Weight: 162g
Product Number: 47636
*GB = 1 billion bytes. Capacity available for storage will be less; device uses up to 10% of memory for formatting and other functions. See
www.verbatim.com/flashcapacity
.