GT SuperSpeed USB 3.0 2TB Blue
This product is no longer available
Product Number: 53089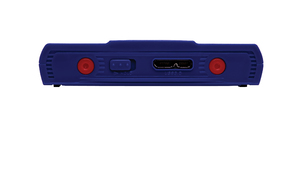 Product Information
Stylish, slimline Portable Hard Drive with white 'go-faster' racing stripe design,
Transfer and backup documents and data easily between home and office,
Unique 'write protection' switch prevents the accidental deletion of data,
USB 3.0 plug 'n' play (no additional power required),
Extensive software package included,
Verbatim 2 Year Limited Warranty.
System Requirements
USB 3.0, USB 2.0 or USB 1.1 port
Windows XP / Vista / 7 / 8 / 10
Mac OS 10.4 or higher
Product Specifications
Power: Bus powered via USB 3.0 cable
Product Dimensions: 126mm x 80.7mm x 13.1mm (L x W x D)
Product Weight: 150 grams
Interface: USB 3.0 / USB 2.0 / USB 1.1 port
Data Transfer Rate: up to 5000 Mbits/sec* (USB 3.0 Bus Speed)
Rotational Speed: min. 5400rpm
Cache: 8MB or greater
Pack Contents:
GT SuperSpeed USB 3.0 Portable Hard Drive
USB 3.0 cable
Manuals and software pre-loaded on the hard drive
Quick Start Guide
*Based on USB 3.0 theoretical bus speeds. Actual speeds dependent on file size and computer capabilities.
Product Summary
---
Taking inspiration from a long history of award winning sports cars, the GT SuperSpeed USB 3.0 Portable Hard drive features the famous white racing stripes which are seen in circuits all over the world. The red LED lights on the rear of the hard drive add to the racing car style.

Being lightweight and combining large capacity with good looks, the GT SuperSpeed is perfect to carry with you, bringing style and reliability to your workspace – wherever that may be. The GT SuperSpeed is USB 3.0 bus powered and requires no external power for operation; simply plug 'n' play.

Drives that are 2TB or under are formatted in FAT32 allowing them to operate immediately on Windows and Mac OSx. Drives above 2TB are formatted in NTFS which is compatible for Windows systems but require Mac users to reformat the drive to HFS+ to make them fully compatible with Mac OSx operating systems. HFS+ formatting can be applied by using the Verbatim VHD Formatter which is on the drive.


The GT SuperSpeed USB 3.0 Portable Hard Drive comes with an extensive software package pre-loaded on it. This includes Nero Backup Software, Green Button Energy Saving Software and Formatting Software as well as the User Manual(s).

The write protection switch on the rear of the drive is a new feature, preventing the accidental deletion of data. It works in a similar way to the write protection on a floppy disk or the write protection switch on an SD card.


Capacity: 2TB
Colour: Blue

Product Number: 53089