Folio Mini for iPad mini / mini with Retina display - Italian keyboard
This product is no longer available
Product Number: 98035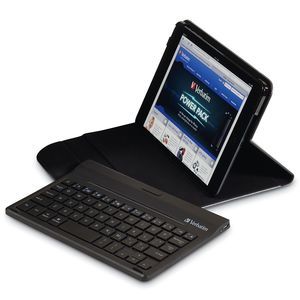 Product Information
Folio Design - Deluxe case opens into a full keyboard and stand for the iPad mini / mini with Retina display.
Slim & Durable - The protective case is less than 2cm thick (including iPad and keyboard) providing the ultimate portable solution.
Removable Keyboard - Rechargeable Bluetooth® keyboard can be moved and located where desired for easy typing.
Easy & Secure - The iPad mini clips securely into place with ease.
Verbatim 2 Year Limited Warranty
Product Specifications
Product weight: 384 grams
Product Dimensions: 211mm x 154mm x 23mm (H x W x D)
Keyboard recharge time via USB: approximately 4 hours
Keyboard working hours per charge: approximately 100 hours

iPad mini dimensions: 200mm x 134.7mm x 7.2mm (H x W x D)
iPad mini with Retina display dimensions: 200mm x 134.7mm x 7.5mm (H x W x D)
Product Summary
---
This ultra-thin durable folio and keyboard solution protects your iPad mini / iPad mini with Retina display, providing you with a stand and removable keyboard.

This folio case folds out into a full keyboard and stand making it ideal for people who regularly use their iPad mini for emailing, making notes and typing documents.

The wireless Bluetooth® keyboard is rechargeable and features soft-touch keys providing a crisp, responsive feel when typing along with easy use smart keys for quick access to key functions. The keyboard can also be separated from the folio case for added flexibility when typing.


Product Number: 98035