Folio Case for Kindle Fire - Bronze
This product is no longer available
Product Number: 98084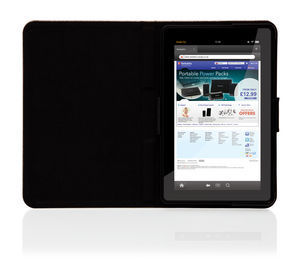 Product Information
Smart Stand - Stand Kindle Fire/Fire HD horizontally for browsing, watching movies, work etc.
Metallic Colour - Finished in three stylish metallic colours.
Easy & Secure - Kindle clips securely into place with ease.
Slim Profile - Sleek protective case with soft interior to protect the screen.
Verbatim 2 Year Limited Warranty.
Product Specifications
Product weight: 132 grams
Product dimensions: 200mm x 133mm x 17mm (H x W x D)

Kindle Fire dimensions: 189mm x 120mm x 11.5mm (H x W x D)
Product Summary
---
Carry your Kindle Fire or Kindle Fire HD in style with Verbatim's folio line of cases. The folio provides protection during daily use from scratches and knocks, and with an ultra fine, soft inner lining the Kindle screen is also protected.

The folio comes in an appealing design in three metallic colours. The Kindle clips firmly and securely into place inside the folio whilst still providing access to all ports, buttons and speakers without the need to remove it for use.


Product Number: 98084