Business Secure USB Drive 8GB*
This product is no longer available
Product Number: 47337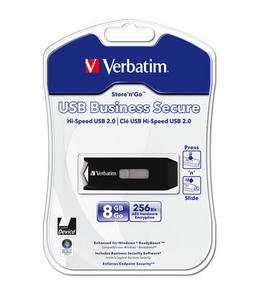 Product Information
Retractable USB connector eliminates the inconvenience of caps.
Designed for information security.
Password hashing algorithm
Mandatory User Login *
Strong password protection *
Hack resistant password entry *
* V-Secure Software currently available in English only
256 bit AES hardware encryption secures confidential data
Enhanced for Windows Readyboost.
Certified for Windows Vista.
Enforces Endpoint Security / centrally manageable. Learn More.
Verbatim 2 year Limited Warranty
System Requirements
Windows 2000, XP, Vista
Product Specifications
Write Speed: 8MB/Sec
Read Speed: 11MB/Sec
Dimensions: 62mm x 21mm x 10mm
Interface: USB 2.0 (also compatible with USB 1.1 ports)
Power Source: USB Bus (no batteries required)
Pack Contents: USB Drive.
Product Summary
---
The Store 'n' Go Business Secure USB drive is designed for information security and to meet the needs of the corporate, enterprise and government markets. With its security controller-based hardware and hack resistant profile, it delivers high-level security for your business documents, programmes or other files.

Store 'n' Go Business Secure USB drive's active security features safeguard all device contents, removing the risk of dependence on users to take precautions to protect company information. It has the capability of being centrally managed, enabling it to form part of a wider company security strategy which allows access to whitelisted or "Trusted" Devices and controlling and reporting all data that is copied from the system.

The 256 bit AES hardware encryption secures confidential data and with the mandatory protection of a strong password, all data is secured from unauthorized access. The drive has many security features, including mandatory password entry, password hashing algorithm and a hack-resistant password entry that erases the data from the device after 6 failed access attempts.


The retractable design of the Store 'n Go family protects the USB connectors without the need for a cap. This means no more searching for lost caps in laptop bags and pockets!
Optimised for maximum performance, the Store 'n' Go Business Secure USB drive offers read and write speeds of up to 11MB/Sec and 8MB/Sec.
Verbatim 2 year Limited Warranty
Capacity: 8GB
Write Speed: 8MB/Sec
Read Speed: 11MB/Sec
Dimensions: 62mm x 21mm x 10mm
Product Number: 47337
*GB = 1 billion bytes. Capacity available for storage will be less; device uses up to 10% of memory for formatting and other functions. See
www.verbatim.com/flashcapacity
.