Wireless Laser Notebook Mouse
This product is no longer available
Product Number: 49032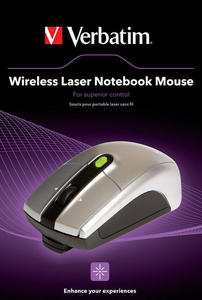 Product Information
Wireless - Plug in receiver and go wireless, 2.4Ghz reliability and performance.
Speed Control - Change speed with one touch. 3 settings with up to 1600 dpi sensitivity.
Slim receiver - designed to fit securely under the mouse.
Comfort grip - smooth, textured grip. Designed for comfort and control.
Free hotline support.
Verbatim 2 Year Limited Warranty.
System Requirements
Windows XP, 2000, Vista
Mac OS 10.4.X and higher
Product Specifications
Product Dimensions: 95mm x 56mm x 38mm (L x W x H)
Product Weight: 117.2g
DPI (dots per inch): 800/1200/1600
Colour: Silver
Battery: 2 AA Batteries
Wireless: 2.4GHz
Interface: USB 2.0 (Also compatible with USB 1.1 Ports).
Pack Contents:
Wireless Laser Notebook Mouse
Software CD
2 x AA Rechargeable Batteries
Quick Start Guide.
Product Summary
---
For Superior Control.

Verbatim's Wireless Laser Notebook Mouse is easy to use in all situations with its wireless capabilities. Simply plug in the receiver and go wireless! It also features variable sensitivity capabilities which allows you to change speeds with a touch of a button. Whether it be for precision pixel targeting when editing photographs or high speed manoeuvres in gaming, you can select from either 800, 1200 or 1600dpi to suit the cursor sensitivity that is needed. The DPI button lights up when the batteries are inserted. There are three settings:
Bright: 1600 DPI
Dim: 1200 DPI
No Light: 800 DPI.
The DPI button will also flash red when the batteries are running low.

Ergonomically designed both for comfort and usability, the Wireless Laser Notebook Mouse has a textured grip and the wireless receiver fits securely under the mouse, making a tidy package to take with you on the move.

Verbatim 2 Year Limited Warranty.


Product Number: 49032