Vx450 USB 3.0 External Solid State Drive 128GB*
This product is no longer available
Product Number: 47680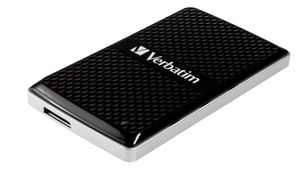 Product Information
High performance solid state external data storage solution,
USB 3.0 interface for external connection,
Internal mSATA interface for ultra high speed data transfer,
Compact, lightweight and shock resistant,
Low power consumption makes it ideal for notebook users,
Free Technical Hotline Support,
Verbatim 2 Year Limited Warranty.
System Requirements
Windows 8, 7, Vista, XP
Mac OS X 10.4 or higher
USB 3.0 port / USB 2.0 port
*Note: For optimal performance the drive must be connected to a USB 3.0 host port.
Product Specifications
Power: Bus powered via USB 3.0 cable
Interface: USB 3.0 or USB 2.0 port
Product Dimensions: 86mm x 47mm x 10.5mm (L x W x H)
Product Weight: 45 grams
Pack Contents:
USB 3.0 External SSD
USB 3.0 cable
Carry Pouch
Nero back it up software (on the SSD)
Read / Write speeds based on Windows 8 OS using UAS protocol.
Typical Read / Write speeds on Windows 7 OS without UAS protocol are Read: up to 230MB/sec. and Write: up to 170MB/sec.
Product Summary
---
Lightweight, fast, compact and durable, Verbatim's Vx450 external SSD provides the latest in external data storage options. Offering data transfer rates up to 450MB/sec, the Vx450 external SSD is ideal for users that demand maximum performance in data storage devices.

With USB 3.0 connectivity and an internal mSATA interface, the Vx450 handles large data transfers quickly – ideal for video editing, interchanging large amounts of data, or maximizing gaming performance.

The Vx450 external SSD operates silently and features low power consumption for extended battery life, making it ideal for notebook users. The Vx450 external SSD is also fully compatible with USB 2.0 and is backed by a 2 year limited warranty.



Capacity: 128GB
Read Speed: up to 450 MB/s
Write speed: up to 295 MB/s
Product Number: 47680
*GB = 1 billion bytes. Capacity available for storage will be less; device uses up to 10% of memory for formatting and other functions. See
www.verbatim.com/flashcapacity
.