USB 3.0 Drive 16GB*
This product is no longer available
Product Number: 43895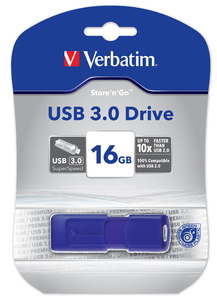 Product Information
USB 3.0 SuperSpeed,
Also compatible with USB 2.0 and USB 1.1 ports,
Push and Pull Sliding feature,
Password Protection Software Trial available for download,
Free Technical Hotline Support,
Verbatim 2 Year Limited Warranty.
System Requirements
USB 3.0 / USB 2.0 ports
Windows 8, 7, Vista, XP
Mac OS X 10.4 or higher
Linux 2.4.0 or higher
Product Specifications
Product Weight: 17 grams
Product Dimensions: 72 x 22 x 10.mm (L x W x H)
Read Speed: up to 120MB/sec (USB3.0 host system)
Write Speed: up to 70MB/sec (USB 3.0 host system)
Data Retention: 10 Years
Power Source: USB Bus (no batteries required)
Pack Contents:
USB Drive
Note: Performance is dependent on file size and computer capabilities.
Product Summary
---
Tapping into the high performance potential of the USB 3.0 interface with the convenient form factor of a standard flash drive, the Verbatim Store 'n' Go USB 3.0 Flash Drive offers extreme speed, large capacity and plug-and-play operation. The unit supports transfer rates of up to 70MB/sec Write and 120MB/sec Read on USB 3.0 host systems.

With USB ports in almost every computer and popping up in cars, DVD and multimedia players, TV's, photo frames and more, USB drives are now being considered an essential accessory.

The Verbatim USB 3.0 Drive has a push and pull sliding feature which protects the USB connection when it is not in use without the need for a separate cap which is easily lost.

Simply plug into any USB 3.0 port (also compatible with USB 2.0) and drag and drop your folders and files.


Password Protection Software Trial available for download -
www.verbatim-europe.com/usbsoftwaredownload
Up to 10x Faster than USB 2.0
More Green, Less Plastic.
This package contains on average 90% less plastic than previous packaging.
Verbatim 2 year limited warranty
Capacity: 16GB
Product Number: 43895
*GB = 1 billion bytes. Capacity available for storage will be less; device uses up to 10% of memory for formatting and other functions. See
www.verbatim.com/flashcapacity
.