Store 'n' Go USM Portable Hard Drive + USB 3.0 cable 500GB* Black
This product is no longer available
Product Number: 53090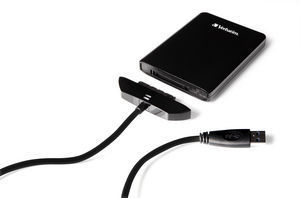 Product Information
USM - Universal Storage Module, a new standard based on SATA hard drives,
Cable-free solution for CE devices - plug directly into devices equipped with a USM slot,
Fast data transfer speed based on SATA to SATA connectivity,
USB 3.0 cable included, other cables available seperately,
Includes extensive preloaded software package.
System Requirements
USM enable device / PC or Mac with USB 3.0 / USB 2.0 / USB 1.1 port
Windows XP / Vista / 7 / 8 / 10
Mac OS X 10.4 or higher
Product Specifications
Product Dimensions: 121mm x 80mm x 14.5mm
Product Weight: 150 grams approx
Power: Powered via SATA USM slot or USB port
Interface: SATA USM
Data Transfer Rate: up to 6GB/sec
Cache: 8MB or greater
Pack Contents:
Store 'n' Go USM Portable Hard Drive
USB 3.0 USM cable
Quick Start Guide printed in 27 languages
User Guide (included on the hard drive)
Backup Software (included on the hard drive)
Green Button Energy Saving Software (included on the hard drive)
Product Summary
---
Verbatim's Store 'n' Go USM Portable Hard Drive offers users a completely flexible and upgradable storage solution. It can be connected using a choice of interface cables (USB 3.0, eSATA, Thunderbolt) or directly using the SATA interface, providing a truly future-proofed storage solution.

The SATA USM (Universal Storage Module) specification is defined as a SATA slot, which accepts complete, powered external hard drive storage devices into consumer electronic devices. No need for additional power or cables.

The big advantage of the USM hard drive is the possibility of being plugged directly into the latest consumer electronic devices with a SATA slot. Move content between TV's, game consoles, PC's, docking stations and set-top boxes simply by docking and undocking. As the connection is SATA to SATA, the data transfer speed is exceptional.


When used with PC HDD storage, Verbatim USM hard drive provides a flexible solution with interchangeable cables, which gives users a choice between various computer interfaces (USB 3.0, eSATA, Thunderbolt™). Complete with an extensive software package: Backup software, Green Button energy saving software, and formatting software, the Store 'n' Go USM Hard Drive is FAT 32 formatted, ready for immediate use on both PC and Mac.
Capacity: 500GB
Colour: Black
Contains USB 3.0 Cable
Product Number: 53090
*GB = 1 billion bytes. Capacity available for storage will be less; device uses up to 10% of memory for formatting and other functions. See
www.verbatim.com/flashcapacity
.