Executive USB Drive 16GB*
This product is no longer available
Product Number: 44076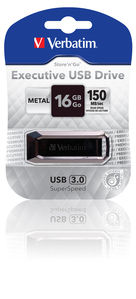 Product Information
Superfast USB Drive,
Tough metallic case,
Fast read and write speeds,
Password Protection Software Trial available for download,
Free Technical Hotline Support,
Verbatim 2 Year Limited Warranty.
System Requirements
USB 3.0 / USB 2.0 ports
Windows 8, 7, Vista, XP
Mac OS 9 or higher
Linux 2.4.0 or higher
Software compatible with Windows 2000 / XP / Vista.
Product Specifications
Weight: 32 grams
Dimensions: 70.5mm x 23mm x 11mm (LxWxH)
Read Speed: up to 150MB/sec
Write Speed: up to 20MB/sec
Interface: USB 3.0 (also compatible with USB 2.0 ports)
Power Source: USB Bus (no batteries required)
Pack Contents: USB Drive.
Product Summary
---
Sleek, stylish, the ultimate in quality and performance USB Drives. The Executive USB Drive features a tough metallic case and super fast read and write speeds won't let you down

The retractable design of the Store 'n Go family protects the USB connectors without the need for a cap. This means no more searching for lost caps in laptop bags and pockets!

Simply plug into any USB port and drag and drop your folders and files.