Audio USB 8GB*
This product is no longer available
Product Number: 43946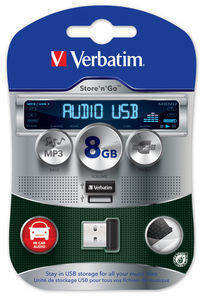 Product Information
USB Drive designed for your car radio or similar devices.
Can be left in the USB port semi-permanently,
Free Technical Hotline Support,
Verbatim 2 Year Limited Warranty.
System Requirements
USB 3.0 / USB 2.0 ports
Windows 7, Vista, XP
Mac OS X 10.4 or higher
Linux 2.4.0 or higher
Product Specifications
Weight: 2 grams
Dimensions: 17.15mm x 14.85mm x 7.7mm (LxWxH)
Read Speed: up to 10MB/Sec
Write Speed: up to 3MB/Sec
Interface: USB 2.0
Power Source: USB Bus (no batteries required)
Pack Contents: USB Drive.
Product Summary
---
The Perfect USB Drive for Car Radios

The majority of music nowadays is mainly stored and played using MP3 files. With car radios increasingly supporting USB ports, Verbatim has developed a USB drive that can fit perfectly into a car radio USB slot, making it the ideal way to store and listen to all your favourite MP3 music while motoring. No bigger than a Euro coin, the innovative USB drive is barely noticeable once inserted into a USB port and can store up to 2000 audio tracks – more than enough for any road trip.

In being only 17.15mm long x 14.85mm wide x 7.7mm deep, when inserted into the USB port only 5mm of the Verbatim Store 'n' Go Audio USB is left protruding, meaning that it can be kept in the car radio on a semi-permanent basis and used as a long-term storage extension. And as with any standard USB drive, Verbatim's Audio USB can also be used in any computer or gadget with a USB 2.0 port - anything from netbooks, table PCs, digital picture frames to desktop PCs.


Verbatim 2 Year Limited Warranty.
Capacity: 8GB
Product Number: 43946
*GB = 1 billion bytes. Capacity available for storage will be less; device uses up to 10% of memory for formatting and other functions. See
www.verbatim.com/flashcapacity
.