2-Disk RAID External Hard Drive 6TB
This product is no longer available
Product Number: 47548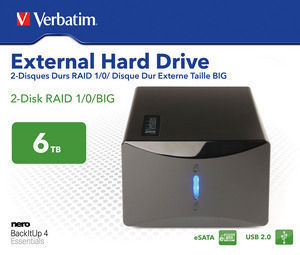 Product Information
User selectable RAID options: BIG / RAID 0 / RAID 1
eSATA 3Gbits - up to 6 x faster than USB 2.0
Ideal for large amounts of data, such as high definition video files
Sleek 'black steel' space saving design for the desk top
Nero BackItUp 4 Essentials software
Verbatim 2 Year Limited Warranty
System Requirements
Windows 7 / Vista
Mac OS X 10.1 or higher
eSATA or USB ports
6TB:
RAID 0: Compatible with Windows 7 / Vista & Mac OS X
RAID 1: Compatible with Windows 7 / Vista & Mac OS X
RAID BIG: Compatible with Windows 7 / Vista & Mac OS X.
Product Specifications
Cache: 16MB or higher
Drive: SATA high speed 7200RPM
External Power: 12V VDC Input
Interface: 1 x aSATA port, 1 x USB 2.0 port
Transfer speed: eSATA: 3.0Gb/s (Max)
USB 2.0: 480Mb/s (Max)
Dimensions: 210 x 120 x 78mm
Product weight: 1.96KG
Specifications: Capacity dependant on model;
1GB = 1,000,000,000 bytes
1TB = 1,000,000,000,000 bytes
Your operating system may report capacity as fewer gigabytes.
Pack Contents:
Verbatim 2-Disk RAID External Hard Drive
eSATA cable
USB 2.0 cable
AC power adaptor / cable
User Guide printed in 20 languages
Nero BackItUp 2 Essentials software on the hard drive
FAT-32 Formatting utility included on the hard drive.
Product Summary
---
Verbatim's 2-Disk RAID External Hard Drive has user selectable RAID options: BIG / RAID 0 or RAID 1.

In RAID BIG mode, the full capacity is seen as 1 BIG Drive with 1 drive letter assigned to it. It fill up one of the Hard Disk's before starting on the other one.

RAID 0 - Striping, offers improved Read/Write times. The full capacity is still seen as 1 drive letter, but the data is split equally across both of the drives.

RAID 1 - Mirroring, is great for data security. Each drive's content is duplicated, so there are two copies of the same data. The maximum capacity is that of one of the Hard Disks within the RAID drive. 1 drive letter is assigned to the drive.

Verbatim's eSATA / USB 2.0 Combo External Hard Drive provides high capacity storage back up for all file types offering high performance and reliability to both the professional and home user.

Stores thousands of digital photos, videos, and other electronic files. Powered by a SATA high speed hard drive, the Verbatim eSATA 3Gbits / USB 2.0 Combo Drive provides ultra fast transfer speeds for the professional user. Up to 6 times faster than USB 2.0, eSATA 3Gbits saves you time and is ideal for high definition video, and audio applications.


Its stylish 'black steel' space saving design sits neatly on the modern desk top.

The drive comes with Nero BackItUp 4 Essentials software providing full back up management for your PC/laptop* hard drive.

* Unfortunately Nero BackItUp 4 Essentials software is not compatible with Mac operating systems.

Compatible with Windows 7

Verbatim 2 Year Warranty.

Capacity: 6TB
Interface: eSATA / USB 2.0 Combo
Dimensions: 210 x 120 x 78mm
Product Weight: 1.96Kg


Product Number: 47548